Her Royal Highness Princess Maha Chakri Sirindhorn of Thailand visited Kyoto University on 20 April 2015, accompanied by an entourage of fifty-two Thai delegates.
Her Royal Highness and Thai delegation were welcomed at the entrance of Kyoto University's Institute for Integrated Cell-Material Sciences (iCeMS) by President Juichi Yamagiwa; Prof Inaba Kayo, Executive Vice-President for Gender Equality, International Affairs, and Public Relations; Dr Nagahiro Minato, Executive Vice-President for Research, Planning, and Hospital Administration; Mr Shinji Asonuma, Executive Vice-President for Industry-Government-Academia Collaboration; and Prof Susumu Kitagawa, Director of iCeMS. A welcome ceremony was then held in the iCeMS main building.
The welcome ceremony, which was facilitated by Executive Vice-President Inaba, included a welcome address from President Yamagiwa and a presentation by Executive Vice-President Minato giving an overview of Kyoto University's cutting-edge research and the history of its academic and research engagements in the Kingdom of Thailand. Conducted in a relaxed and friendly atmosphere, the ceremony culminated with an exchange of gifts and a commemorative photo session. The Thai delegation was then given a presentation on the research activities of iCeMS by Prof Kitagawa, followed by a tour of the institute and its facilities.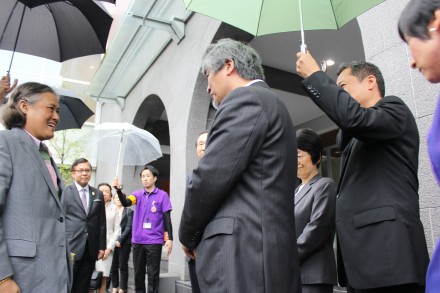 President Juichi Yamagiwa welcomes Princess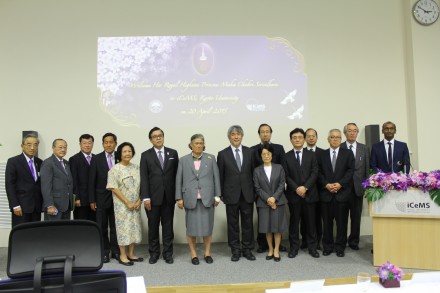 A commemorative group photo with the Thai delegation