On 24 July 2021, President Nagahiro Minato attended a ceremony announcing the establishment of the new Consulate of Switzerland in Osaka that will also include a new Swissnex location. Swissnex is an initiative of the Swiss State Secretariat for Education, Research and Innovation, and is comprised of offices outside Switzerland promoting international exchange. The event was held in an online/on-site hybrid format and in conjunction with a visit to Japan by Swiss President Guy Parmelin, who attended from the Swiss Embassy in Tokyo.
President Minato, representing Japan's higher education institutions, delivered an online speech on "the future vision of university internationalization", in which he introduced KyotoU's international initiatives including strategic partnerships and on-site laboratories. He also highlighted the importance of universities continuing their international efforts despite the pandemic, in areas such as education and research collaboration and human capital development, as part of their mission to address global-scale issues.
Among the other attendees were Swiss Ambassador to Japan Andreas Baum, Consul-Designate Felix Moesner, University of Zurich Vice-President Christian Schwarzenegger, and representatives of actors in the start-up domain. The day's program also included a discussion on the importance of university internationalization, and presentations on several Japan-Switzerland partnerships for the promotion of innovation, both held following the announcement and speeches.
Related Links
・Kyoto University Strategic Partnerships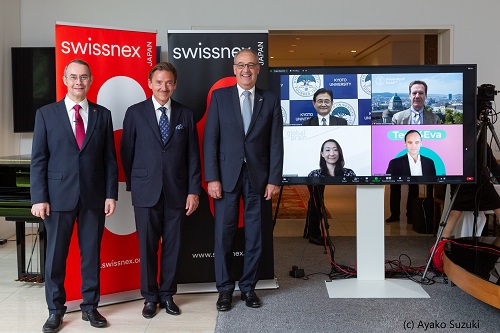 Standing from left to right: Consul-Designate Moesner, Ambassador Baum, and Swiss President Parmelin;
in the display: KyotoU President Minato and University of Zurich Vice-President Schwarzenegger at the top, and venture program representatives at the bottom