Dongbo Shi graduated from the Graduate School of Biostudies, Kyoto University, and he receives a Humboldt Research Fellowship for Postdoctoral Researchers. We talked with him about appeal of scholarships, his preparation for application and his discoveries while researching abroad.
 

Dongbo Shi

Destination: Center of Organismal studies (COS), Heidelberg University

Duration of stay: June 2016–March 2018
I wanted to conduct research in Germany in a yet unexplored field and answer the question on how stem cells could be produced.
At the Heidelberg University Center for Organismal Studies (COS), researchers conduct fundamental research in molecule theory, plant and animal cell biology, developmental biology as well as physiology with state of the art technology. In Japan, I studied the development of animal cells, but wanted to change my focus to plant cells after my Ph. D.
Even without going abroad cutting edge research is possible in Japan, since the number of laboratories in innovative research fields is growing. In addition, when I was thinking about going abroad as a postdoc, the responses of my college were mostly negative upon asking for their opinion. Nevertheless, I wanted to experience researching in a foreign country first hand. In the beginning I plunged into applying for publicly advertised scholarships, but wasn`t successful in the end. Since it is easier to get a fellowship for a research stay, I applied for the Humboldt Research Fellowship for Postdoctoral Researchers.
The support for accepting laboratories and the researcher's families by the Humboldt-Foundation is appealing.
In addition to the scholarships for researchers, the Humboldt Research Fellowship for Postdoctoral Researchers includes research subsidiaries for laboratories. Therefore, it is a big plus for the laboratories to accept researchers, who obtained this fellowship.
Additionally, the support for the families is very gracious. They provide the medical treatment and insurance premiums for the spouse and the children of the researcher. Furthermore, there is the possibility for extension of the actual funding period of two years to three years, if you take  children of 12 years old and under with you to Germany. Because EU laws grant a parental leave, the scholarship system adopted accordingly. This allows researchers to spend time more with their children.
There is support and encouragement for researchers to become familiar with the German research culture.
The Humboldt Foundation is holding events that really make you feel welcome as a foreign researcher in Germany. For example, all researchers and their families are invited to the annual general meetings in summer. Even the Federal President of the Republic of Germany participates. Moreover, networking meetings are offered multiple times throughout the year and many opportunities are provided for new incoming researchers to become familiar with research and culture in Germany. This support is not only available for the researchers. Their partners— for example — can take German language classes. Furthermore, even after the end of the funding period and going home, trips to Germany are supported. Assistance like this really makes you feel accepted and welcomed as fellow researcher 
At the time of application, it is more important to make solid research plans rather than presenting past research achievements.
I think it is very important that the written application is interesting. Therefore, it is essential that many different people read your research plan and share their opinion I asked my prospective supervisor at COS for guidance on my research proposal many times. The doctoral theses and research objects were only one part of the necessary documents to be handed in. I eventually was accepted, even though I did not had any research achievements or undiscovered data to be presented since I changed my research field.
From application to confirmation of acceptance, it took about five months. At the time, the application to the Humboldt Foundation had to be sent via postal service. Just after my application, they went online, and seem to have been flooded with requests, which might have led to prolonged examination time.
Nevertheless, it is convenient that there is no fixed date for application, which is thereby possible throughout the year.
By studying abroad, I was able to get in touch with approaches that are different from Japanese ones.
Judging from the research facilities, European laboratories do not differ much from their Japanese top-ranking counterparts. Therefore, you can also do research in Japan. However, I appreciate the possibility to get in touch with ways of thinking and approaches different from those of Japanese, because in these laboratories researchers from all over the world gather together. For example, it is common practice to progressively collect as much data from experiments as possible in Japan. I was shocked to hear that – by virtue of German effectiveness – researchers would say, "it's better not to do it", in cases where results of an experiment were inefficient. I think that this might be the reason why they have 6 weeks of paid holidays, even though there are many people who "only" take 4 weeks off. (laughing)
Another difference is the strong pupil-teacher relationship in Japan in order to provide one on one guidance even at experiments. On the contrary, German students are expected to be independent for experiments, and independence is highly evaluated at practical trainings.
I wish there would be more applications to foreign funds and scholarships by young and mid-career researchers.
Aside from Early Career Researchers, the Humboldt Foundation also offers 6 to 18 months funding opportunities for mid-career researchers, who finished their Ph. D. no longer than 12 years ago. I met various people at the annual conference; many of them were associate professors staying in German for a sabbatical. I think, chances like this are hardly known in Japan. I wish this would change.
"Overseas Research Fellowships" offered by the Japan Society for the Promotion of Science (JSPS) are widely known amongst Japanese scholars. However, foreign funds and scholarships have their unique appeal. I recommend everybody to try to apply  for them.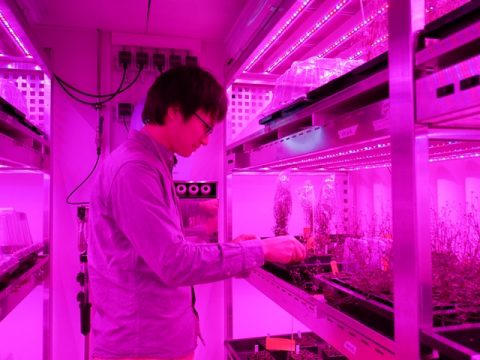 With only blue and red light and in total absence of any green light, the laboratory is filled with this strange color. Could this have influence on the efficiency of results?