We met with Okada Yusuke, who came from Kyoto University Graduate School of Letters to Heidelberg University in order to write his Ph. D. thesis. We talked with him about his in Heidelberg and his plans.
Okada Yusuke| Ph. D. student at the Graduate School of Letters/Faculty of Letters, Kyoto University | Destination: Heidelberg University | Duration: October, 2016 until present(1.5 years)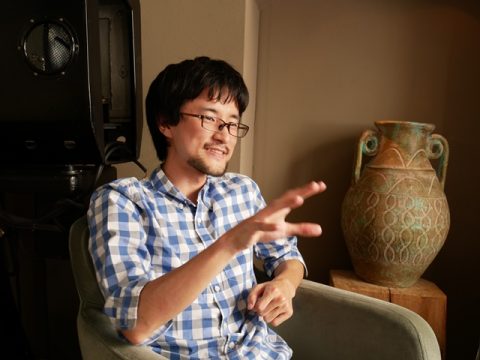 About the chance of studying abroad at Heidelberg University
I am currently studying the work of Hans-Georg Gadamer (1900–2002), a German philosopher who was a professor teaching at Heidelberg University. Gadamer's philosophy is called hermeneutics which major question is "What does it really mean to understand something and what happening if we do understand something?"  Even though he and his work is mainly studied in the USA, I choose to study in Heidelberg since his writings and publications remained here in large numbers. Another reason for going to Germany was that I learned German when I was an undergraduate student. Gadamer lived until fairly recently, there aren't many researchers studying his work. Nonetheless, while conducting my research on his work in Heidelberg, I found other students doing the same.
The daily life as a student concentrating on research
Right now research is basically the centre of my life. Searching for literature at the library of the Institute for Philosophy, writing my thesis at home and in the library. Once a week I attend in a seminar and listen to research presentation by students. About 15 students are enrolled at my seminar of which two thirds are exchange students. Apart from myself, there is one more Japanese student.  Additionally, some seminar members and I initiated a reading group in order to discuss books.
In the beginning, I attended to some classes as well. The German classes are different from Japanese in having more room for discussion. Moreover, it was interesting to see professors use PowerPoint presentations in their lectures, which are seldom used at Kyoto University.
Obviously, the biggest difference is the language. In Kyoto, we continually read German text by neatly translating it page by page. The amount of text we managed to cover in one semester is equivalent to one class at Heidelberg University. That does not mean the classes in Japan were useless. On the contrary, I think it was good to slowly and carefully read the texts and thereby acquire the skill of translating and analysing their meaning exactly.
Widening research, aiming for a doctoral degree at Halle University
One and a half years have passed since I came to Germany. In the first year, I stayed in Heidelberg as an exchange student. Although I originally hadn't decided what to do after the exchange program, I wanted to stay here as long as possible. Right now, I continue my research as a short-term researcher.
While conducting my research, I got interested in theology and I had the idea of starting a new research project about Friedrich Schleiermacher (1768–1834), who was a theologian and active in the field of hermeneutics as well. He was one of the founding members of Humboldt University in Berlin. Even though there is little research done about him in Japan, he had a lot of political influence in Germany. To be honest, I learned a little about Schleiermacher in courses in Japan, but it didn't strike me at the time. I applied for an interview with a researcher at Halle University in May and will research Schleiermacher's work there.
While writing my doctoral thesis about Gadamer, which will handed in to Kyoto University, I start to study at Halle University in October to seek a theology degree.
To people thinking about studying abroad
Looking back at my student life abroad, all I remember were good things thanks to not having been involved in major troubles. Of course, there were some small problems and hardships, but it was a good experience.
I studied abroad at Sheffield University in U.K. as I was an undergraduate student. I've been studying in Heidelberg University after entering the doctoral course. I had to chance to meet Syrian refugees in Germany. It might be an outdated phrase, but I realized that "How narrow view of the world I've seen until now" after I experienced to study abroad. Learning foreign languages and building relationships with new people had a lasting impact on your own identity. Even though it makes fun as well, it also is a precious experience.
Therefore, I wish that everybody should certainly experience studying abroad for even half or one year. Even if you don't  ​have an actual goal, you might find one while being abroad. I rather recommend it especially for people, who don't have a goal.