Heidelberg Office participated in "Kyoto Tag" held at Japanisches Kulturinstitut Köln hosted by Consulate General of Japan in Dusseldorf, Japanisches Kulturinstitut and Deutsch-Japanische Gesellschaft e.V. Köln.
We displayed several different types of brochures at an exhibition stand, and provided information for students and their parents who are interested in studying at Kyoto University.
We also gave a presentation in German together with two undergraduate students from Kyoto University, who are currently studying in Heidelberg University as an exchange student. After we shortly explained overview of Kyoto University, such as its history, mission statement, and etc., the students gave a presentation on the student life in Kyoto University from a view point of a student, and the differences of student life between Germany and Kyoto that they experienced.
For the full student presentation (in German) please click on the play button below.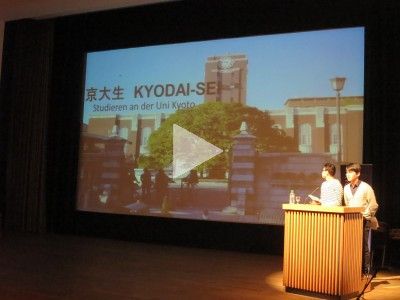 We received a warm applause from the audience, which especially went to the students.
Presentation by Student of the Kyoto University