Four Kyoto University Research Administrators (KURA) and Kyoto University European Center staffs participated in the 25th Annual meeting of European Association for Research Managers and Administrators (EARMA), which took place from March 27 to 29 in Bologna, Italy.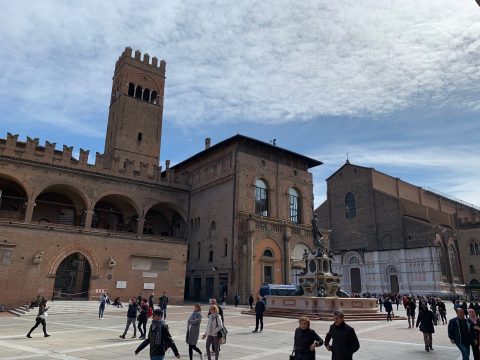 At the 25th EARMA, panels concerning major European issues like the upcoming Horizon Europe framework starting in 2021 as well as measures and effects of Brexit concerning science and research were held. Additionally, topics such as project development support (funding application, networking), personnel development of university research administrators, institutional research, information dissemination and training programs for young researchers etc. were discussed in various sessions.
Since one of the main goals of Kyoto University European Center and KURA is strengthening networks to promote scientific collaboration, we jointly organized the panel discussion titled "Re-connecting Social Sciences with Society: The Role Of RMA's". This event was realized in collaboration with Rotterdam-Erasumus University, Amsterdam University, Institut d'Etudes Politiques de Paris and Kozminski University (Poland) on the European side and the inner-Japanese university consortium consisting of Hiroshima University, Osaka University, Kobe University. Touching issues like Japanese policies towards Society 5.0, the role of Humanities trying to solve societal problems and strategies for URA to support them were lively discussed in front of an audience of over 50 people.
Also present at the venue was a booth promoting INORMS (International Network of Research Management Societies)2020) which is set to take place in Asia for the first time in April 2020 in Hiroshima.
We also provided information on Kyoto University and the Kyoto University European Center to over 100 people visiting our booth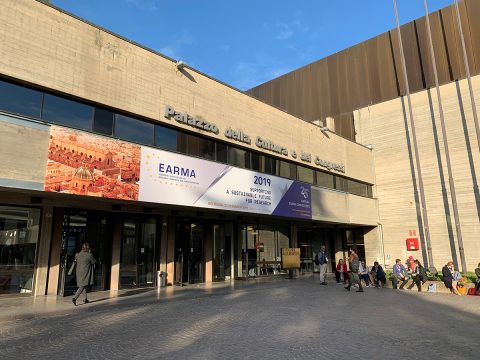 EARMA2019 event hall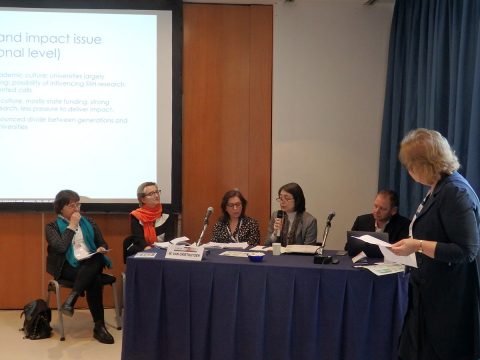 Panel discussion