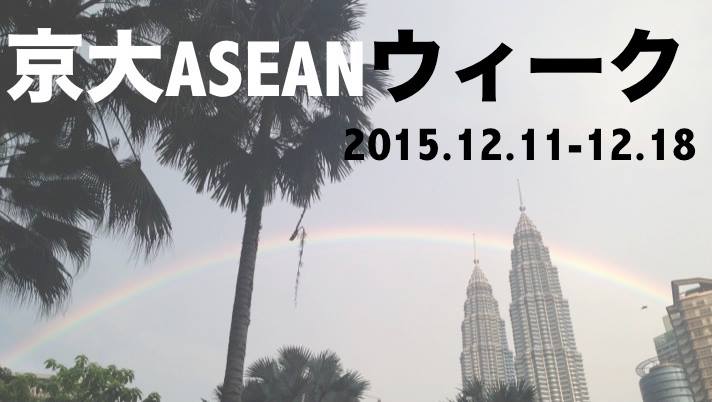 " a WINDOW to ASEAN – KU ASEAN WEEK 2015" will be held from December 11 to 18. KU ASEAN WEEK will be an opportunity to share the Kyoto University's activities and their outcomes with researchers, students, and the community.  During the WEEK, fifteen events will be organized in Kyoto and some of the ASEAN countries.
The highlights of the WEEK include following events. The Center for Southeast Asian Studies (CSEAS), which was the pioneer of research on Southeast Asia, will celebrate the 50th anniversary of the foundation. "SEASIA2015" on December 12 to 13 will invite Former Prime Minister Yasuo Fukuda and bring scholars who work on or in Southeast Asia together to discuss the future perspectives.  A room, which Daw Aund San Suu Kyi did her research at CSEAS will be open to public for the first time on this occasion. Mr. Keiichi Yoshino, a student of Kyoto University and a social entrepreneur, will give talk on his challenges with cacao from Indonesia at the Earth Hall of Fame Kyoto Special Session on December 12.
Kyoto University just launched a new project of Japan-ASEAN Science and Technology Innovation Platform: Promotion of Sustainable Development Research (JASTIP) in September. We are entering a new phase of collaboration.
Kyoto University has an idea which we should be a window connecting to the world and leading to society. Through this window to ASEAN region we would like to know better each other during this WEEK.
For the detail of each event, please look the list as below:
Event list